QUALITEC TECHNOLOGY AWARDS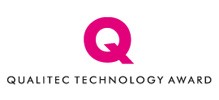 Il Qualitec Technology Award è dedicato a idee e progetti innovativi che siano stati concretamente realizzati e proposti sul mercato.
Il premio è rivolto sia agli operatori professionali della Marine Industry, sia agli utilizzatori finali (consumatori) e riguarda soluzioni "smart", migliorative, innovative, in grado di rappresentare un concreto passo avanti in termini di tecnologia, sicurezza, semplificazione, soluzione di problematiche non ancora risolte, salvaguardia dell'ambiente, miglioramento oggettivo delle condizioni di fruizione del diporto nautico.
The Qualitec Technology Award is dedicated to innovative ideas and projects that have been concretely implemented and proposed on the market.
The award is dedicated to both professional operators of the Marine Industry and consumers and concerns "smart", improvement, innovative solutions, capable of representing a concrete step forward in terms of technology, safety, simplification, problem solving, environmental protection, improvement of the conditions of use of Marine Industry.