QUALITEC DESIGN AWARDS 2023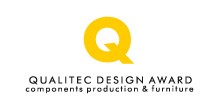 Il Qualitec Design Award è un premio riservato agli oggetti della componentistica e d'arredo, selezionati e proposti dagli Espositori che meglio concorrono, nell'eccellenza del design, alla qualità della vita a bordo.
The Qualitec Design Award is an award reserved for items of components and furnishings, selected and proposed by the Exhibitors who contribute in design excellence and in the quality of life on board.
Opacmare - Vincitore/Winner
Prodotto/Product: EVO TRANSFORMER
Motivazione/Reasons:
OPACMARE è uno dei nomi più affermati nel settore della componentistica complessa delle filiere di fornitura specializzata per l'industria nautica, in special modo con i suoi prodotti caratterizzati da movimentazioni con asservimenti oleodinamici, nei quali ha ormai maturato un'esperienza amplissima, con una affidabilità di prodotto che gli è ben riconosciuta.
La continua ricerca di innovazione, la cura del dettaglio, l'attenzione alle tendenze del mercato sono ormai una delle cifre di riferimento del ventaglio di prodotti offerti da questo storico marchio piemontese.
A questa ennesima edizione del Seatec, Opacmare porta una piattaforma di poppa estensibile, elevabile, con notevole portata di sollevamento per un tender o uno jet-ski, che facilita l'accesso in sicurezza al mare e fa della zona di poppa una spiaggia privata ben attrezzata, sicura e comodissima da utilizzare, risolvendo anche con eleganza ed ampiezza inusitate la problematica dello sbarco-imbarco da banchina, negli ormeggi di punta.
OPACMARE is one of the most established names in the sector of complex components of the specialized supply chains for the nautical industry, especially with its products characterized by movements with hydraulic interlocks, in which it has now gained a very extensive experience, with a reliability of product that is well recognized.
The continuous search for innovation, attention to detail, attention to market trends are now one of the reference figures of the range of products offered by this historic Piedmontese brand.
At this umpteenth edition of the Seatec, Opacmare brings an extendable, elevating stern platform with a considerable lifting capacity for a tender or a jet-ski, which facilitates safe access to the sea and makes the stern area a well-appointed private beach. equipped, safe and very comfortable to use, also solving with unusual elegance and breadth the problem of disembarking-embarking from the quay, in the peak moorings.
Northern Light Srl - Menzione speciale/Special Mention
Prodotto/Product: ECORACER 30
La Northern Light Composites prosegue il percorso già impostato nella scorsa edizione del SEATEC,presentando oggi un racer da regata pura di 30", frutto del percorso di design e produttivo caratterizzato dalle peculiari sensibilità ecologiche che lo scorso anno già valsero a questo giovanissimo marchio un riconoscimento della giuria del Qualitec. che vede con soddisfazione il consolidarsi ed il concretizzarsi delle ottime premesse e dei positivi orientamenti già messi in evidenza.
L'utilizzo di fibre naturali e di resine termoplastiche ecosostenibili, con tecnologie sviluppate dagli stessi propositori, si concretizza oggi con questa interessante proposta per la produzione (ormai in atto) di una serie di imbarcazioni a vela monotipo da regata, dal design gradevole e moderno, a chiglia retrattile.
La menzione qui assegnata sottolinea la continuità dell'idea innovativa e la determinazione a farne un obiettivo concreto della proposta imprenditoriale di questa giovane e dinamica realtà italiana.
Northern Light Composites continues the path already set in the last edition of SEATEC, presenting today a pure regatta racer of 30″, the result of the design and production path characterized by the peculiar ecological sensitivities that last year already earned this very young brand an award of the Qualitec jury. which sees with satisfaction the consolidation and materialization of the excellent premises and positive orientations already highlighted.
The use of natural fibers and eco-sustainable thermoplastic resins, with technologies developed by the proponents themselves, is now realized with this interesting proposal for the production (now in progress) of a series of one-design sailing boats for regattas, with a pleasant and modern design with lifting keel.
The mention assigned here underlines the continuity of the innovative idea and the determination to make it a concrete objective of the entrepreneurial proposal of this young and dynamic Italian company.